Last July, I had to set up a limited company as clients and agencies won't do business with sole traders for various reasons. This came up after I'd been offered the contract so it was a bit of a rush job. I registered with Companies House and sorted out business insurance (not easy when you have poor credit - finally got it sorted via a broker). I was a bit apprehensive as I like to keep things simple. Was it worth the hassle and expense of going limited for a short contract?
I went for it anyway as it was an interesting project with a big brand, well paid and could lead on to other things. I worked on it full time for six months and kept my other clients on reduced hours - pretty gruelling - a good practice run for the lockdown. I learnt how to handle an ever-shifting brief, multiple sign-offs and differing opinions on tone of voice. It felt good to be earning proper money. Going limited has made me think about my business as a separate entity. I've given my agency a name and it means I can apply for a wider range of projects.
Now it's listed on CH, I'm being approached by lots of people keen to sell me stuff. Sales letters in the post, random calls, InMail - do I need staff, office space or software solutions? (nope, it's just me). All trying to persuade me to buy, upgrade, do more, get bigger.
I don't want to get bigger. Just better at what I do.
I want a minimalist business with scalable systems so I can work less, earn more, adapt quickly and be less stressed.
I want to do interesting, meaningful work, collaborate more, and have the freedom to choose when and where I work. More time to do things I enjoy and see the people I love. Not having to monetise everything I do. Minimal overheads and managing myself - not others.
Here's what I've done over the last year to keep things simple:
Focused on my strengths – things I enjoy and am good at. I do the writing, client liaison and my own social media – the rest I can outsource. I'm thinking more about the end-to-end service, i.e. emails to my mailing list to find out what they want and following up on projects.
Streamlined my services – I've done journalism, PR, social media management, coaching, PA work, marketing, research, TV, radio, events. Just because I can do something doesn't mean I should offer it as a service. So, I do copywriting and will niche, even more, to focus on areas I'm interested in: the future of work, portfolio thinking, digital innovation, AR, slow travel, creativity, and human connection in business.
Thinking big but keeping it simple with digital products - newsletters, a book, online classes/courses. Automating as much as I can: online accountant, FreeAgent, social media scheduling, creating templates for jobs I do regularly.

Cancelled subscriptions I don't need

Made my own website and banner

Working from home and cafes to keep my costs down

Owning my mailing list - this newsletter is my main channel of communication. Becoming more strategic on social media - using fewer platforms so I can be more engaged. LinkedIn is my main source of work - also checking out Reddit and Quora.

Being creative with my work/live space. I don't want to pay more rent for a bigger flat so I'm looking at small space design and storage solutions.

Sold my car – unreliable, expensive and I don't need it every day

Learning – reading anything I can get my hands on - business books, copywriting, creativity, leadership lessons from history, the Spanish flu. Listening to podcasts. Doing free online courses.

Signed up with Hoxby, a collective work agency with over 1k freelancers from 30+ countries, all working as teams on various projects. It's a community of experts rather than an online inventory of talent, and they pay community shares.

Stopped calling myself a freelancer. I'm a business owner/founder. There are negative perceptions that freelancers are flaky and unreliable, which is frustrating.

Asked for a pay rise and a contract from a regular client

Experimenting more – as Liz Gilbert says, creativity and fear have to learn to live together. Putting stuff out there is scary. The good thing about having a small audience is you can test stuff out (it's beta!) It doesn't matter if a project fails - it was a worthwhile experience and will feed into the next thing.

Trying to let go of my anxiety around not knowing enough before putting work out there. It's ok to learn and grow on the job. I did a masterclass this week with Lauren Razavi who has been researching influencer culture for her book. She shared some fascinating insights around mindset: influencers don't ask for permission or chase traditional prestige/media. They learn in public and take their audience along with them. You validate yourself through the work you do.

I have one email account - adding 'no response necessary' to the end of emails

Writing in the mornings – generates a few ideas before I start on client work

Asking questions. 'What are you passionate about?' will lead to deeper conversations than 'what do you do?'

Building deeper relationships with the clients I have and making myself indispensable. What other products can I help create? How else can I add value? What are the links between the different industries I work in and what connections can I make?
Having a minimalist business is about mindset, and it doesn't mean thinking small. I want a profitable business I can pass on to my daughter if she wants it, or sell. The benefit of being a company of one is that you can experiment, do things quickly and change direction if you need to.
I'm hugely inspired by Paul Jarvis' work - check out Company of One and his newsletter, Sunday Dispatches - he always makes time for a chat on Twitter. The Minimalists blog & podcast. Tom Fishburne aka the Marketoonist. Bringing humour to business with cartoons. He works from home as a freelance cartoonist and makes more money now than he ever did in the corporate world. Cal Newport's books Digital Minimalism and Deep Work.
I've been having lots of conversations about new lifestyles post lockdown. People have been using this time creativity to start businesses and make plans. One family is moving to France for the winter rather than their usual long-haul travel. More new arrivals from London - couples taking advantage of being fully remote until 2021. A friend has moved to the countryside and is setting up her Country Girl Yoga.
Interesting to see that rents have fallen in London and are rising in smaller cities. I had plans to move to Xabia, Spain this time last year but things didn't work out - too expensive for rentals (4 months upfront via agencies) and difficult with a teenager so it's on hold for now. I want the best of both worlds - summer in the UK near family and winter sun in a creative environment, meeting people doing interesting things.
What changes have you made during the lockdown?
Hit reply and let me know.
---
Creative Spotlight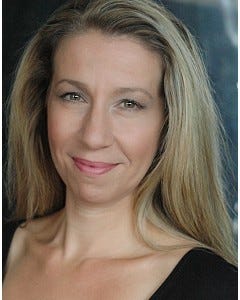 Tamara Wilder is the owner of Blackwatch Entertainment - live and online entertainment for the corporate and private sector. She recently won a place on the NatWest Entrepreneur Accelerator Scheme competing with 800 applicants for one of 50 places. "I say we, essentially my company is really me and some stormingly brilliant women. We're award-winning, five-star rated and have been incredibly busy with virtual entertainment during the lockdown. We're now heading into a new area of entertainment - digital storytelling using Augmented Reality.
Offering: Collaboration and skills swap as an actor, writer and creative innovator. "I'm a trained writer, workshop leader and facilitator for the corporate and voluntary sectors. I'm also an experienced voiceover artist." Connect on Twitter @blackwatchents @tamarawilder_actor and insta: @blackwatchentertainment.
---
Tried & Tested
I've been spending more time on LinkedIn lately as it's where most of my leads come from. Following companies I'd like to work with, connecting with agency creatives, leaving comments, and replying to DMs (even if they are just selling stuff, I'm asking how they are). I did a call out for creative businesses to profile and tagged it #femalefounders, #contentcreators, and #newsletters, which got some traction and ended up trending - worth doing as the editors pick up this content for news updates.
There's a lot of noise on Twitter and I struggle with Insta - refresh, refresh, random follows, pickups, curated content. I'm sat here at my desk all day like a farmer - no fairy dust. It makes you feel shit and boring so I've stopped using it. LinkedIn is good for deeper connections, positioning yourself, sharing ideas, articles, community groups. They keep offering me free trials for Premium but I'm not sure it's worth it (a LinkedIn trainer said not to bother).
Thoughts?
---
The Toolkit
Uncharted: How to Map the Future - Margaret Heffernan on experiments, radical exercises, creativity, why businesses need to focus on people, and what we can learn from the pandemic - watch the RSA interview here.
---
Thank you for being part of The Shift this Sunday 🙏
If you enjoy my newsletters you can support my work by:
Sharing this post with a few friends who might like it