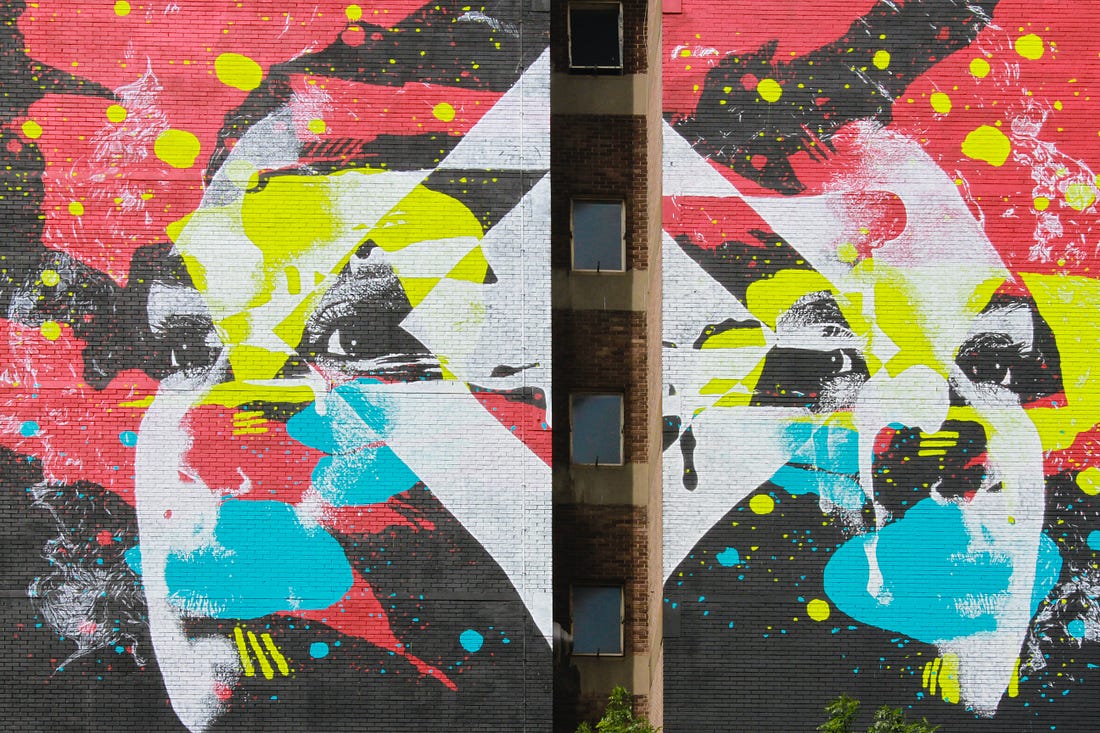 Did you go out yesterday? Super Saturday. It was raining here, so I didn't bother. Not in the mood for shopping or being in a crowded pub, so I stayed home and made some calls. It's been a busy week and I had to take my daughter to Heathrow on Tuesday. She's spending the rest of the summer in Sardinia with her dad so I'm getting used to being on my own again.
A friend made a comment the other day about being an unpaid skivvy and how she's glad to get back to work (she runs a vegan café and has been doing takeaways). I know how she feels. I've enjoyed spending more time with my daughter and having a co-working buddy but it's been hard work. Lots of shopping, cooking and cleaning on top of my paid work, which women tend to do more of.
I need a break.
A friend said her neighbours are having an existential crisis about having jobs with no meaning. The pandemic has polarised jobs into two camps: essential and nonessential. We're celebrating key workers – teachers, doctors, nurses, supermarket staff and delivery drivers because they're out there doing important (and visible) jobs. It's easy to feel demoralised and fed up if you've been furloughed, are worried about redundancy, or doing less visible work like IT, marketing and social media.
If you're feeling that way there are some good tips in this piece by The Enterprisers Project.
My work has stepped up lately - it's all about communications rather than selling. And getting the tone of voice right. One of my clients is a trade organisation so has gone above and beyond to support its members - a new digital platform, blog, webinars, social events, sharing campaigns, advocacy, and doing lots of press.
If you're not finding value in your paid job, then start a side hustle doing something you enjoy. This newsletter has given me a focus and a weekly deadline. I've made some great connections and it's interesting to see how publishing and journalism are evolving with new online models. More here on how Substack has spawned a new generation of newsletter entrepreneurs. I've asked Lauren Razavi (Counterflows) to come and talk to the NUJ on July 13 about making money from email newsletters. She's also running some great freelance masterclasses this month.
I've enjoyed: working remotely, daily jogs, Peleton, reading, podcasts, long chats, cooking, online conferences like Creative Women – stuff I wouldn't have been able to go to IRL. I've been quite productive. Funny how having constraints can make you feel more creative and focused - we have fewer distractions.
I've missed: hugs, massages, seeing friends & family, working in cafes, watercooler chat.
The DMA is running a campaign for Great British Creativity, focusing on the value creativity can bring to UK businesses, so I got in touch and offered to write some copy. Enjoyed this mini-documentary: Madmen v Mavens - on the future of copywriting.
Interesting chat with Lemur Press in New York about reprinting one of my old books - the fine art of the blow job - yes, it's still top of the Google search, apparently, 12 years on. I've written to my publisher to ask for my rights back and all seems well. Be interesting to see if I earn more from a reprinted version that pays royalties rather than a flat-fee deal. A bit of extra cash would be very welcome.
I've also signed up to The Copywriter Underground. My goal is to earn 10k a month. I did it with my last contract, so I can do it again. It's all about mindset, hey. I've been listening to their excellent podcast which has me realise how diverse the industry is and how the title 'copywriter' really doesn't do it justice.
I can't think of a better word though. Content writer sounds a bit wanky.
There are so many different kinds of copywriting and lots of opportunities with emerging industries – SaaS, AI, VR, fintech. As we've seen over the last few months, brands will always need good copy.
The Links 🔗
Sunak (future PM) considers £500 vouchers for all UK adults to spend in coronavirus-hit firms (and £250 for kids). Tories giving out free money…this is a big shift ;-) Tried and tested in Wuhan, Malta and Taiwan, so why not the UK? Bring it on.
Why news organisations' move to capitalise 'Black' is a win
Tik Tok launches Tik Tok for Business – a new platform for brands and advertisers.
What the Dutch can teach the world about remote working. "I'm judged on whether I deliver value, not the fact that I sit at a desk for nine hours a day." Like the idea of having free places to work where you trade a service for a workspace.
Big Tech may not be afraid of a boycott. But it may fear a regulator
Kanye West declares he will run for US president in 2020. Written in the stars, surely?
New Marketing 🎧 with Ayo Abbas: Marketing in Times of Crisis – jam-packed with tips, hints and takeaways you can apply to your business right now.
Emma Gannon's Ctl Alt Delete 🎧 – #270 Julia Cameron: Creativity, Criticism & The Artist's Way
The Tip
How to return to a younger version of yourself to create better content. "The easiest person to have empathy with is yourself. And if I'm having empathy with a younger version of myself, then I can create what I think is much better content, because I'm able to understand my customer or my theoretical customer." Darrell & Stefanie in The Copyblogger 🎧.
Try writing a letter to your teenage self – you'll be surprised what emotions come up.
The Brand
Aromatherapy Associates
I'm addicted to Deep Relax, their first and bestselling oil. Add a few drops to the bath or massage in before you shower and breathe deeply… feel those shoulders drop. You'll smell fabulous all day (or night) and get the best night's sleep.
Geraldine Howard co-founded the brand in 1985 and started out giving treatments and making products from her small Fulham flat. It went on to become of the UK's biggest beauty exports with a strong brand story around the healing power of aromatherapy. She died of a rare form of eye cancer in 2016. Here's to a genuine beauty visionary who said her greatest achievement was "seeing the incredible results that essential oils had both on the quality of the skin and on the way people felt." 🙏
If you've not tried it, you're in for a treat.
Email me if there's anything you'd like me to share in next week's newsletter - before and after haircut pics welcome!
PS. I have a new logo – what do you think? Bit Mondrian. I've gone for primary colours for a change, and it really cheers me up.
Credit to my good friend and colleague, Sheriden Booth, an experienced marketer, photographer and graphic designer. We've been working together for the past couple of years, and she has a great eye. If you need some marketing help or a fresh design, I recommend her services. She's also been looking after three kids and working full time during the lockdown.
👏 👏 👏 to all the supermums (and dads) out there…
Photo: Unsplash