Joe Brooks and Lucia Ongay were at another advertising awards event full of white, middle-aged men in black suits (this time it was really obvious).
"This is bullshit, we have to do something about it," said Joe.
So, they did something radical and started the first advertising awards show with an all-female jury.
They launched the Gerety Awards in 2019 with a question and a challenge for industry leaders:
"What does a woman have to do to get onto an advertising jury?"
The awards are named in honour of Frances Gerety – the copywriter who created the slogan 'A diamond is forever' for De Beers in 1948. She wrote all their ads over the next 25 years, creating new strategies for diamond sales following the Great Depression. At the time, women could only work on briefs aimed at women.
Ad Age called it the most famous tagline ever, the 20th-century slogan selling romance.
Everyone should know about Frances (especially if you've ever given or received a diamond ring). More about her here.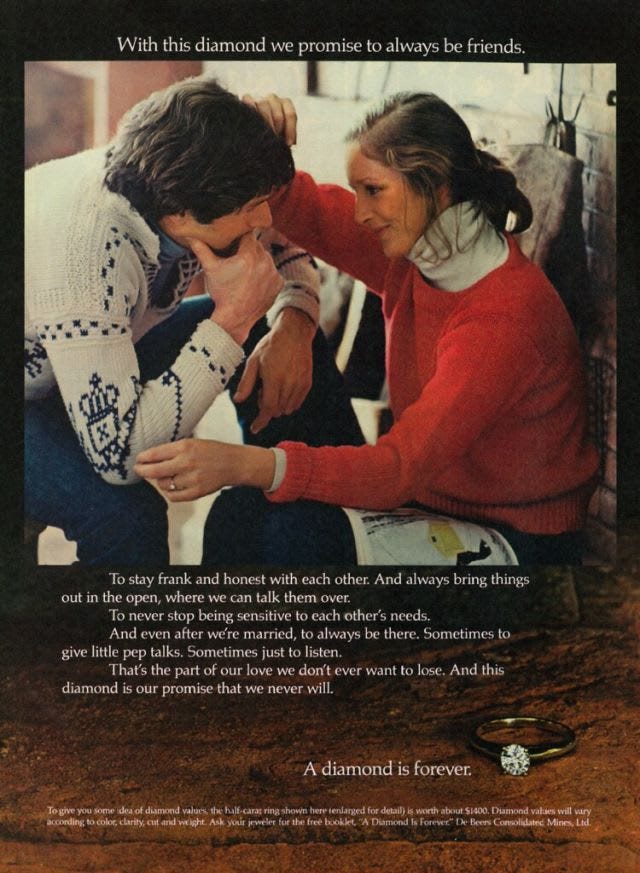 The goal is to provide a global platform for talent and support initiatives that champion diversity in the creative industries. To celebrate excellence in all advertising and comms through a female lens. The industry norm is male-dominated juries. The target of 50/50 panels isn't enough since women make 80% of purchasing decisions.
They have an all-female panel in 10 cities – a fantastic collective of cool creative women (check out their bios here). There are 10 'cuts' – media, innovation, entertainment, communication, craft, experience, works for good, health, pharma, and portfolios, and two criteria: the originality of the idea and the execution.
See last year's winners here. Great to see Viva La Vulva (Essity Bodyform/Libresse) win across three categories - a fantastic ad.
The response has been positive – it's a much-needed shift, although some sceptics question the logic of an all-female jury. Wouldn't women prefer to stay at home with the kids?
Entries have been extended to July 17 and the winners will be announced in October. They've banned COVID related entries – "it's not a cultural moment, it's a humanitarian catastrophe."
Check out the 'who we support' page – local and international organisations like She Says offering free mentorship and events for women in creative industries. The aim is to get people together to share their experiences (they have a WhatsApp group with 150 members). "Everyone can help each other – something that should be done not only in advertising but in many other industries," says Lucia.
Interesting to read how the diamond industry has been devastated by the pandemic.
Time for a new approach to customer comms, De Beers?
Thanks to Glenn Fisher – your podcast is getting me through lockdown (love the jingles). Listen to the interview with Lucia Ongay here. www.allgoodcopy.com.